Streamlined construction management software
Say goodbye to disorganization and hello to streamlined construction management with our powerful software.
One-stop software for all of your needs
All of your client communications and documents stored in one place, for an unlimited number of jobs.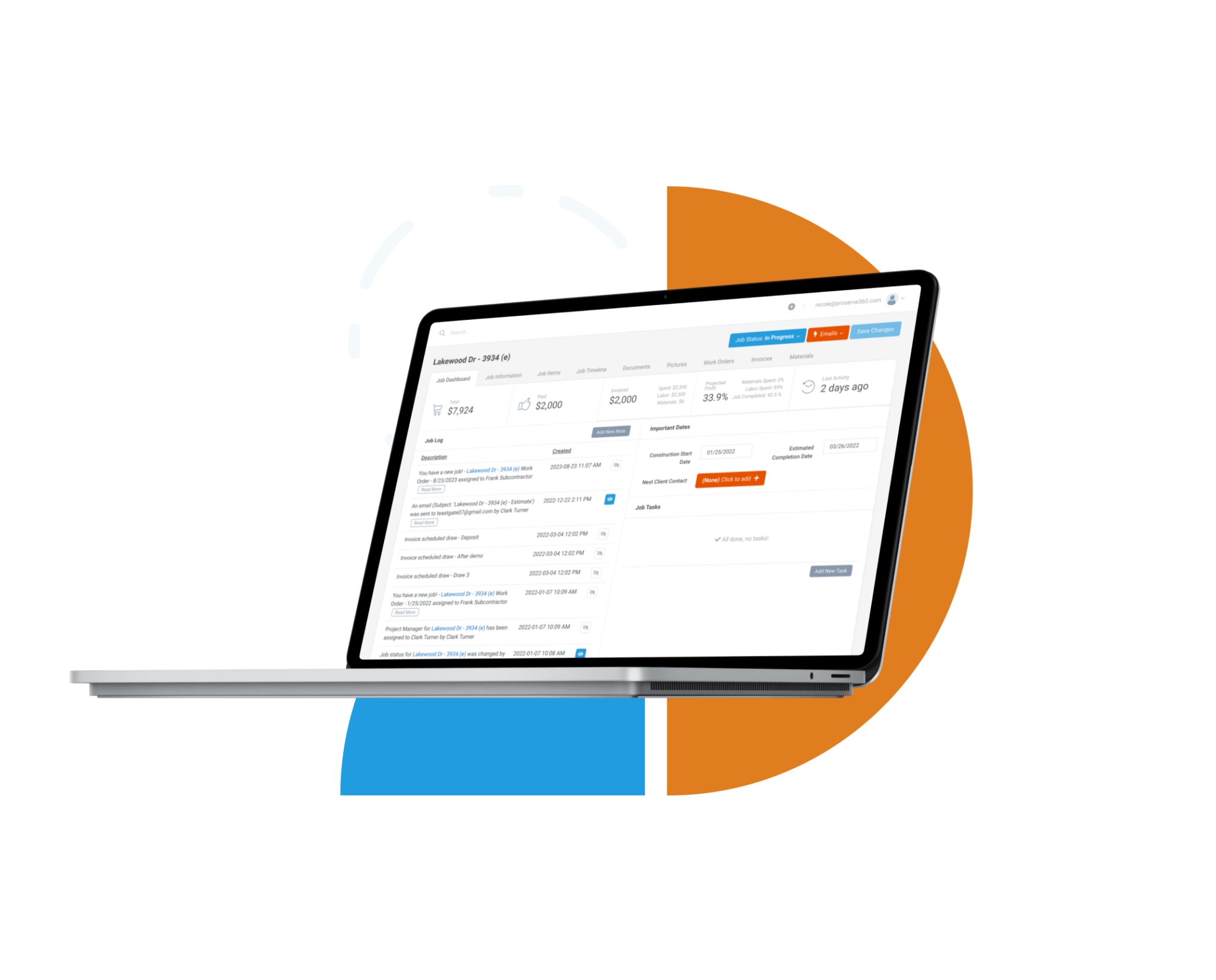 A comprehensive overview of all of your jobs in one location.
Utilize Gantt Charts to stay on top of all of your jobs and responsibilities.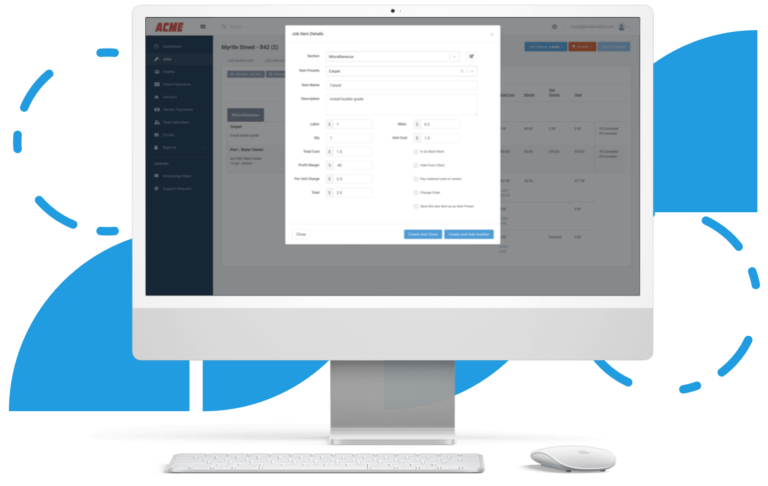 Create highly customizable estimates, save line item templates, view your profitability before completing a quote, and easily add and manage change orders. Customize your profit margins and gain real-time profit insights.
Use the job dashboard, data retention, team and vendor management, and the task management system to be certain your jobs are running smoothly across all levels. 
Tools for all your job responsibilities
Tools for all your job responsibilities
We simplify and optimize every aspect of managing your crews. From managing vendor paperwork and insurance, to assigning out work orders and paying your vendors directly from your job page, ProStruct360 makes your job easy.
Easily invoice clients through line item or draw schedule invoicing. Effortlessly send or print invoice documents with your company's customized branding. Gain insights into your company's financial performance with our comprehensive profit and loss super report. Additionally, we offer seamless integration with QuickBooks to help you manage your expenses efficiently.
Line Item Invoicing

Select line items and invoice them individually to maintain a seamless cash flow, ensuring your crews are compensated at the same rate as your clients are billed.

Draw Schedule Invoicing

Plan and schedule draw requests as needed. Our software will remind you when it's time to send the next draw request, simplifying the process and keeping your financials on track.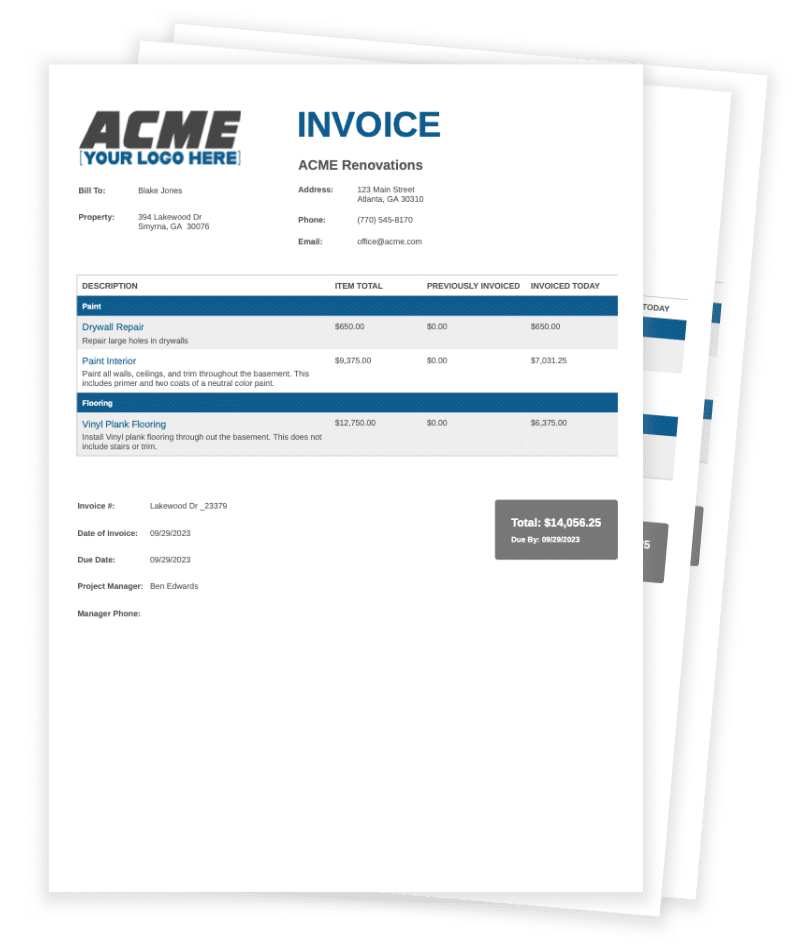 What our customers say...
"When I first met with ProStruct360, I was struggling mostly financially with a lot of my processes. I was really good at being able to handle projects, but when it comes to running a business it's very different. ProStruct360 has given me every single tool to put in my belt to be able to go from just a company that does a couple remodels to an actual scalable, growable, replicable business."
Bruce Canerday
"I'd worked with Buildertrend, CoConstruct, Joist, and other softwares before, but each one of them had a handicap or were too complicated in a way contractors understand. After meeting with ProStruct360 and taking a deep dive into my company, I saw things I could improve on and decided to move forward with them. It's been over a year now, and the amount of growth I've received from streamlining my processes has been incredible."
Sam Haynes
"Before I started working with ProStruct360, I was very unorganized with no calendar or schedule. They got me on track to organize things and think of the future. The software helps me lead my team and keep them accountable. This has allowed me to develop my team way better than I was ever able to before. Now I can really take on so many jobs and it has helped me grow. I feel the company truly has the ability to run itself."
Jason Lincoln
One software for all contractors
Remodeling
Whether you're a general contractor or flipping homes, our software streamlines project management and client communication for your renovation projects.
Commercial Contractors
Tailored for commercial construction projects, our software empowers you to efficiently handle everything from estimates to invoicing.
Home Building
Perfect for home builders, our software simplifies complex tasks, helping you manage multiple projects and subcontractors with ease.
Specialty Contractors
Our software offers specialized tools to manage unique project needs, ensuring smooth operations and client satisfaction.
Select a date and time on the calendar, and we will reach out to you shortly!
Frequently Asked Questions